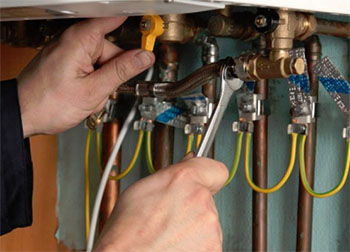 Katy Texas Plumbing offers a full spectrum of commercial plumbing services for business clientele, from small business owners to large corporations. Our highly skilled, licensed, bonded and insured professionals specialize in a variety of commercial plumbing services to meet any commercial plumbing need.
Our experienced technicians and staff members are leaders in the commercial plumbing industry in the Katy, Texas area. Our specialized business services include rigorous employee training and certification with the latest technology available within the commercial plumbing field. We maintain professional licenses and certifications to meet any commercial plumbing need or emergency that might arise.
Katy Texas Plumbing's skilled professionals are kept abreast with regard to commercial zoning requirements and the latest inspection standards to assure that your business will always be up to code and never have to be concerned with receiving plumbing code violations or citations.
We pride ourselves in providing top-of-the-line commercial plumbing services, which include (but are not limited to):
Commercial fixture installation and repairs
Toilet, faucet and drain installation and repair
Water heater installation, repair and maintenance
Industrial piping repair and installation
Customized handicap fixture installation and repairs
Commercial plumbing requires a specialized skill set with regard to tools, plumbing knowledge and commercial plumbing protocols. Our certified staff can deliver superior industrial and commercial-grade services, repairs, installations and maintenance of all of your plumbing requirements for your business in the Katy, TX, area.
If you don't see your commercial plumbing need or repair listed above, please contact us, as we are confident that we can meet any commercial request.
We are committed to providing commercial clients and business accounts with the most experienced, dedicated and reliable plumbing experts and services available in the Katy, Texas area. All of our professionals work in conjunction to assure that the highest level of customer satisfaction is attained by our clients, no matter how big or small the commercial plumbing need.
Whether you are in need of commercial plumbing repairs, installation, maintenance or remodeling services, our fully licensed plumbing technicians will provide you with outstanding and timely professional service.
Contact us today to speak with a knowledge member of our business account staff regarding your commercial plumbing needs. We are available via phone at (281) 712-2561 or contact us via our contact page.